Biking Toward Balance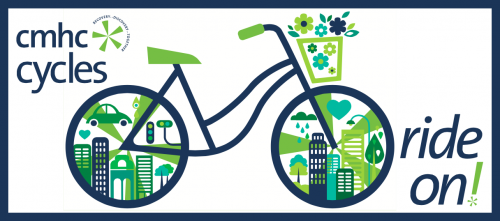 Do you remember learning to ride a bike? For most of us, the learning process involved wobbly wheels, skinned knees, and a few tears. But it also involved the exhilarating moment of finding balance.
Biking is a lot like recovery - there are moments when you tumble and fall, but also many opportunities to try again to regain your balance.
In this year's Annual Appeal, Becca Allen, President, and Kyle Pedersen, Executive Director, explore the ways that the CMHC Foundation is supporting local community members to find their balance through the CMHC Cycles program. For $100, CMHC Cycles can provide a community member living with mental illness and addiction a refurbished bicycle, safety equipment, and cycling instruction. In the past year, CMHC Cycles has supported over 40 people with access to bikes. Read the full Annual Appeal here, or check out the insert here.
Learn about the impact a bike can make in the newly released video "Recovery is… Getting a Bike" on YouTube here or on Vimeo here.
Join us in supporting members of our community to bike toward balance.
Set up a recurring donation today and help make a lasting difference in the lives of people with mental illness and addiction.