The Hill Farmers' Market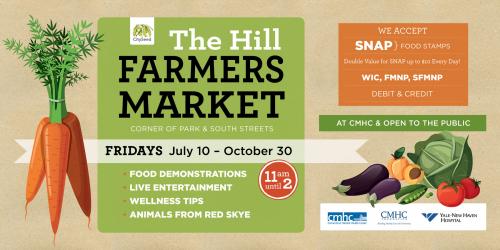 Taste goodness.  Taste wellness.
Now in its 6th delicious season! The Hill Farmers Market at CMHC is a partnership with CitySeed that promotes healthy eating and access to fresh food.  
Open to the public at 34 Park Street in New Haven every Friday from 11am-2pm, July 10-October 30, 2015.  
Join us for fresh Connecticut produce, cut flowers, food and wellness demonstrations, live entertainment, animals from Red Skye,  handcrafts, community resources…and much more.
The Hill Market accepts:  SNAP (Food Stamps), Double Value for SNAP (up to $10 per day), WIC, FMNP, SFMNP, cash, Debit and Credit.