Knowledge is Power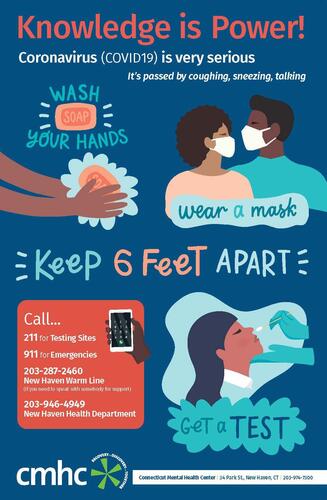 In light of the coronavirus pandemic, CMHC is leading a campaign called "Knowledge is Power / Saber es Poder" to empower and educate the community about how to stay safe. In an article featuring the campaign, Michael J Sernyak, MD, CEO of CMHC and Yale Professor of Psychiatry, speaks to the explicit links between physical health and mental health, and CMHC's committment to serve the community by distributing knowledge. You can read the full article on the "Knowledge is Power / Saber es Poder" campaign here.
In this year's Annual Appeal, President Laura Goldblum and Director Kyle Pedersen, Executive Director, speak to the innovative ways that CMHC has been working to provide essential services during the global pandemic. Read the full Annual Appeal here.
Join us in creating better health for all today.
Set up a recurring donation today and help make a lasting difference in the lives of people with mental illness and addiction.