Recovery is… Going Back to School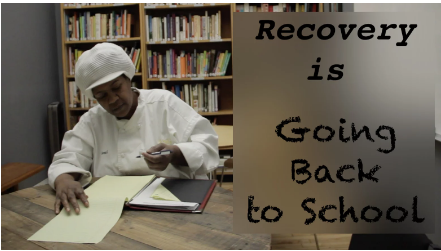 "I didn't know what this brain was gonna do… I just had to try". A point of reflection for Serena Spruill on her journey to recovery. Serena, a client and peer support specialist at CMHC, is now fulfilling a lifelong dream of becoming a chef with a passion for healthy vegan cuisine. Watch the video to meet Serena and become inspired to carry out your own dreams!
This past year, we have had the pleasure of sharing stories of recovery through the "Recovery is…" series- we hope you have enjoyed learning about recovery through these empowered individuals. To view the series in its entirety, visit our YouTube or Vimeo page. Don't miss our next series- be sure to subscribe to stay up to date on the latest videos and exciting content. 
We've gotten tremendous feedback on the series- we appreciate you, the viewers, for tuning in to these stories. Thanks to the production team, Noah Golden (editor), Laki Vazakis (videographer) and Lucile Bruce (producer) who made the series a reality. And of course, a very special thanks to all of the people featured in the videos who shared their wisdom with us: Al, Ira, Shenette, Mark, Randy, Liz, Bob, Kiana, John, Maria, Nancy, Shumar, Ed, Deborah, Leo, and Serena- thank you all for showing us that Recovery is!