Recovery is… Friendship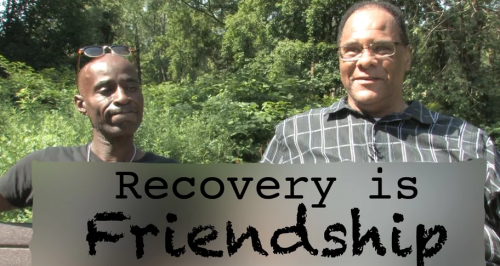 Click to view the video on YouTube.
From Our Director, Kyle Pedersen…
Recovery is… Friendship.
What would we do without our friends? People we count on when the going gets rough. People who draw out of us our better selves.
For Al and Ira, friendship makes recovery possible. You can catch their story in the inspiring new video short just released by the CMHC Foundation. We hope you enjoy it and help spread the word: RECOVERY IS!
In the new year—the 50th anniversary of the Connecticut Mental Health Center—we will share more exciting videos like this one. Stories of recovery told by those who know it best: people in recovery. You can catch them on
our website
.
Every year 5000 men and women in greater New Haven count on CMHC to be there for them when they need it most. When they have run out of resources and need help dealing with serious mental health and addiction problems. CMHC is there for them with cutting edge and compassionate care.
For over 20 years, the CMHC Foundation has counted on loyal friends and supporters—like you—to provide critical financial support so that CMHC can keep helping people in recovery live healthy and flourishing lives in the community. Your support provides emergency financial assistance when people need it most and helps CMHC discover and practice new ways of making recovery possible in the lives of those it serves. You can read more in
our annual appeal letter
.
The Beatles said best what Al and Ira already know: We get by with a little help from our friends.
Be a friend. Make your
gift
today and you make recovery possible.
Thank you for your friendship and support.